1st OCTGN DtR Revolver League
Information
Board Owner:

Prodigy

Starting Rating:

1500

Active Competitors:

13

Retired Competitors:

0

Password Protected:

Yes

Auto-Verifies In (hrs):

24

Created:

2/28/2018

Starts On:

3/9/2018

Ends On:

6/11/2018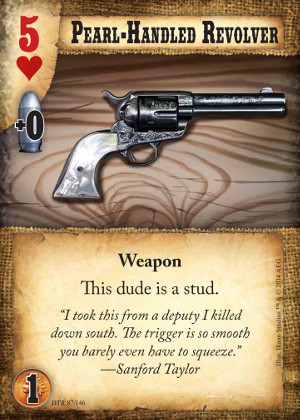 Expand your experience building and playing with decks of all factions in this new revolver format league!

The rules:

1. This casual league is revolver, which means you need to play each of the 6 factions before you can play one again. You can stay with the same outfit for each faction, if you wish. Example: I have played 3 games so far, one with Desolation Row, Morgan Gadgetorium, and 108 Drunken Masters. Before I can play any Sloane, Morgan, or 108 deck again I must first play a Fourth Ring, Eagle Wardens, and Law Dogs deck.

All official Doomtown: Reloaded cards up through There Comes a Reckoning are legal, including the recent ban of Showboating and errata to Nicodemus Whately.


2. Time limit is 55 minutes by default, unless both players explicitly agree otherwise before the game starts. A 10 minute warning is required, and when time is called the game immediately moves to sundown (same as the current DtR floor rules).
3. There is no limit on how many times you can play another player. Try to play as many different people as you can, though!


4. Current DtR tournament rules apply to determine winner. Of particular note is that we have a new rulebook and errata, and as always the league uses the latest tournament-official rules.
FAQ & Errata:
http://pineboxentertainment.com/wp-content/uploads/2017/08/doomtown_rules_compendium_v0.7.pdf
Rulebook:
http://pineboxentertainment.com/wp-content/uploads/2017/09/doomtown_rulebook_v1.3.1.pdf
Normal win condition rules apply up until the time limit is reached. Then, if the time limit is reached and there is no clear winner, immediately go to sundown and each player adds up the total of their control + influence. Highest total wins, and if that is also tied then the highest CP total wins. See the official rules for further tie breakers after that.
http://pineboxentertainment.com/wp-content/uploads/2017/08/doomtown_floor_rules_v1.1.pdf
5. There will be no cut to finals.
6. Have fun and be respectful! This more casual league is about expanding your horizons with both deck building and playing with different outfits.
Additional information
1. Be sure to record factions played when you report a game!
2
. Make sure you explicitly state this is a Revolver League game, as for some time there will be 2 simultaneous Doomtown OCTGN leagues. Also some people use different nicknames on challengeboards and OCTGN - be sure you know what your opponents challengeboard username is.


3. For discussion, arranging games, or announcing availability you can either post to the discordapp.com chat:
https://discord.gg/S6xFzS2
or post on this discussion area of challengeboard, or use this facebook group:
https://www.facebook.com/groups/725656174207374/
Prizes
We will have participation prizes, prizes for the top 4-8 (depending on total participants), as well as a 'Most Creative Deck' poll + prize for the winner. To qualify for the Most Creative Deck, you'll need to earn at least one league win with the submitted deck.